This afternoon I finally went to the Uffizi. It is a shame! If you hadn't reserved your tickets online, you wait hours in the queue. In any case, they are expensive (plus the reservation charges). Anyways. The paintings are ok (full of saints, as Mark Twain was complaining). The sad thing is that the explanations are missing: with such a great collection (and those prices and a constant flow of visitors from all countries), they should have a friendly and more professional museography, instead of those domestic pieces of paper printed 15 or 20 years ago. It is so bad, that some funny guy damaged a Botticelli with masking tape. The sign to visit the "area" reserved to Caravaggio is an A4 paper in plain Arial fonts.
Italy should be ashamed of treating this art pieces so badly.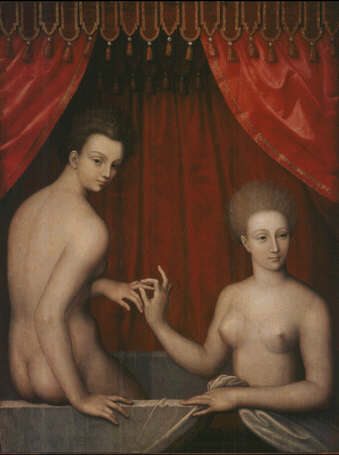 Interesting was to "discover" another portrait of Gabrielle d'Estrées
, Duchess of Beaufort and Verneuil, Marchioness of Monceaux, Lover of the King Henry IV
. She is the one who convinced the King to end the religious wars. "Paris is well worth a Mass", he famously replied. A similar portrait is in the Louvre, with Gabrielle and her sister are also taking a bath.